Researcher + Educator + Entrepreneur = you?
Are you doing your PhD thesis at the Universitat Politècnica de València? Do you have a good level of English? UPV offers full-time contracts for becoming a part of CDTM in Valencia.
We bring you closer to fulfilling your potential and having the impact you want to have in your area of research and beyond! As part of our team, you will find creative freedom, responsibility and community.
The Center for Digital Technology and Management (CDTM) comes from Munich in Germany. After 25 years of successfully running the "Technology Management" study program in Munich, the CDTM is now building the first location outside Germany in Valencia.
YOU can become a part of the Management Team in Valencia to set up and run the operations of this new location of the CDTM. As part of the Management Team, you will learn how to lead people, develop your own projects, and scale an organization on the European level. Your responsibilities as part of the Management Team include organizing, moderating and teaching one of the courses of the "Technology Management" study program, recruiting students, managing partnerships and further developing CDTM's strategy, among others!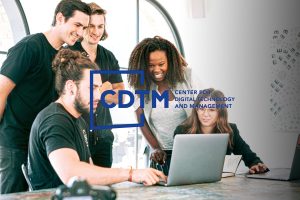 You will become part of one of Europe's most successful and tightly-knit networks. Throughout our 25 years of history, the CDTM has brought forward Startups now worth over €8 Billion. We have educated innovators that are now key decision-makers in academia, industry and politics. In our community, you will find unparalleled support to pursue your own and the organization's objectives.
💡 Join us at UPV on the 27th of March at 4 pm to learn more about this job opportunity!
Location: Salón de Actos Rectorado (edificio 3A, entrada Este frente a Registro General)
AGENDA
4:00 pm ​Welcome
Mª Esther Gómez, vicerrector for students and entrepreneurship
Salvador Coll, vicerrector for innovation and transfer
4:05 pm​Presentation of CDTM
Carla Pregel, CDTM Valencia general manager
Ferrán Pla, CDTM ambassador
4:25 pm
​Q&A
4:45 pm​
Networking coffee